Organisation - Amber RFC governance
The Regulation (EU) No 913/2010 defines the corridor governance structure on two levels. The establishment of the Amber RFC organizational structure was a crucial measure for creating the corridor:
The Executive Board, which is the highest level body assigned to the corridor.
The Management Board, which is the main operative body of the corridor.
Organizational units of the Amber RFC are illustrated in the following schematic structure: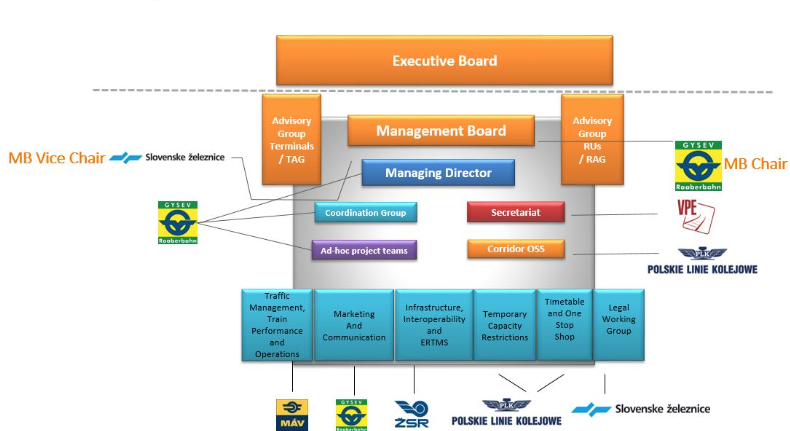 Nominated representatives of the IMs and AB of Amber RFC:
PKP PLK - PKP Polskie Linie Kolejowe S.A. (PKP Polskie Linie Kolejowe Spółka Akcyjna) – IM, Poland
ŽSR - Railways of the Slovak Republik (Železnice Slovenskej Republiky) - IM, Slovak Republic
MÁV - MÁV Hungarian State Railways Company Limited by Shares (MÁV Magyar Álllamvasutak Zrt.) - IM, Hungary
GYSEV - Győr-Sopron-Ebenfurti Vasút Zrt./ Raab–Oedenburg–Ebenfurter Eisenbahn AG - IM, Hungary & Austria
VPE - Hungarian VPE Rail Capacity Allocation Office (VPE Vasúti Pályakapacitás-elosztó Kft.) - AB, Hungary
SŽ-I - SŽ-Infrastruktura (Slovenske železnice-Infrastruktura, d.o.o.) – IM, Slovenia
For the sake of corridor establishment and considering the volume and the types of tasks, the MB decided to set up also other corridor bodies (e.g. Advisory Groups, C-OSS office) as well as the Coordination Group, a Secretariat and six Working Groups to support its work.