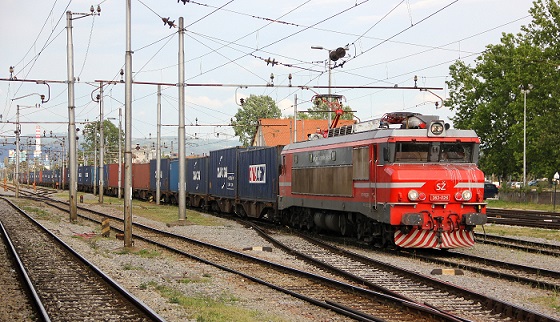 Amber Rail Freight Corridor goes operational
With the publication of paths for international freight trains in mid-January 2019 the Amber Rail Freight Corridor reaches its operational phase. The main goal of the corridor is to facilitate competitive cross-border rail freight between important industrial centers and intermodal terminals of Poland, Slovakia, Hungary and Slovenia, including the Adriatic seaport of Koper, and to provide efficient links to Euro-Asian railway routes in Malaszewice at the border to Belarus and towards South-Eastern Europe via Kelebia, border station to Serbia.
The Amber Rail Freight Corridor No.11 is the first new EU Rail Freight Corridor which has been established after the setting up of nine initial Rail Freight Corridors defined in 2010 by EU-Regulation 913/2010 concerning a European Rail Network for Competitive Freight. In accordance with the requirements of the Regulation, the Amber Rail Freight Corridor has successfully accomplished all necessary steps to be established within two years after the Commission Implementing Decision was published in the Official Journal of the European Union on 2 February 2017, following a joint initiative by Hungary, Poland, Slovakia and Slovenia.
With the new corridor the four participating countries took the lead in closing some gaps which remained in the network of EU Rail Freight Corridors, increasing the resilience of the network as a whole by providing more route options. The four countries, five railway infrastructure managers and one capacity allocation body of the corridor are committed to develop the Amber Rail Freight Corridor as an integral part of the network of Rail Freight Corridors to the benefit of freight train operators, terminal managers, rail logistics companies and shippers.
From 14 January 2019 onwards the Amber Rail Freight Corridor offers pre-arranged catalogue paths for the timetable year 2019/2020. Capacity requests are to be addressed to the Corridor One-Stop Shop which provides all necessary information about the infrastructure capacity along the corridor.
Thanks to recent infrastructure investments such as electrifications, the Amber Rail Freight Corridor strengthens with its increasingly attractive route the position of international rail freight on the North-South axis in Central-Eastern Europe. The corridor contributes to develop and implement harmonized solutions for the provision and management of rail freight capacity and helps to shift long-distance road traffic to rail.