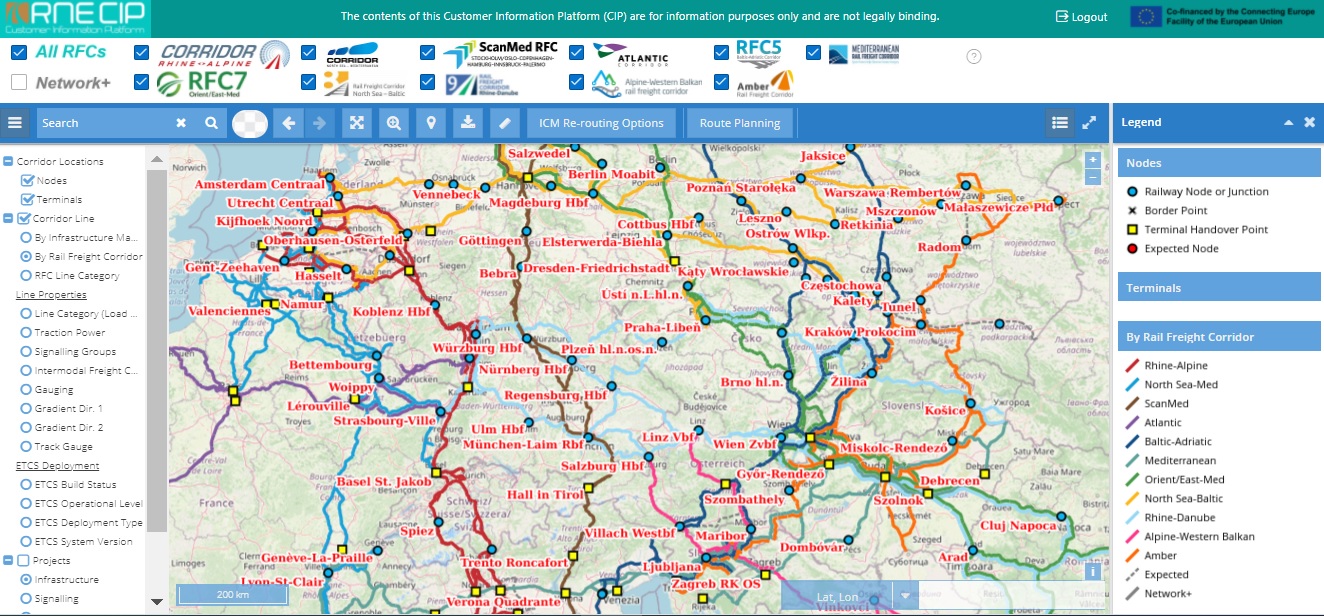 CIP is rolled out to the entire RFC network
The Customer Information Platform (CIP), an internet-based application operated by RailNetEurope (RNE) on behalf of the Rail Freight Corridors (RFCs), has been successfully rolled out to the entire RFC Network. The information concerning the newest RFC (RFC Rhine-Danube) is now available in the CIP productive environment. With this, the CIP now provides customer-relevant information on railway infrastructure in 26 European countries covering the entire RFC Network.
The cornerstone of CIP is an interactive map, which is supplemented by a joint document share point used by all RFCs. The CIP interactive map provides a wide range of information on the rail infrastructure along the routes of RFCs, such as the rail freight-relevant line properties, length of the line sections, ETCS deployment plans and further investment projects. The CIP interactive map also features information about the re-routing options in case of international contingencies appearing along the routes of the RFCs as well as an advanced functionality for route-planning.
In addition to the above, the geographical coverage of CIP is gradually being extended beyond the routing of RFCs, thus covering also the feeder and outflow paths of RFCs' customers. Moreover, to further improve the experience of CIP users, in early 2021 the graphical user interface of CIP has been upgraded to match the state of the art.
With the support of RNE and under the coordination of the project leaders of MÁV, RFC Amber rolled out the CIP in December 2019.