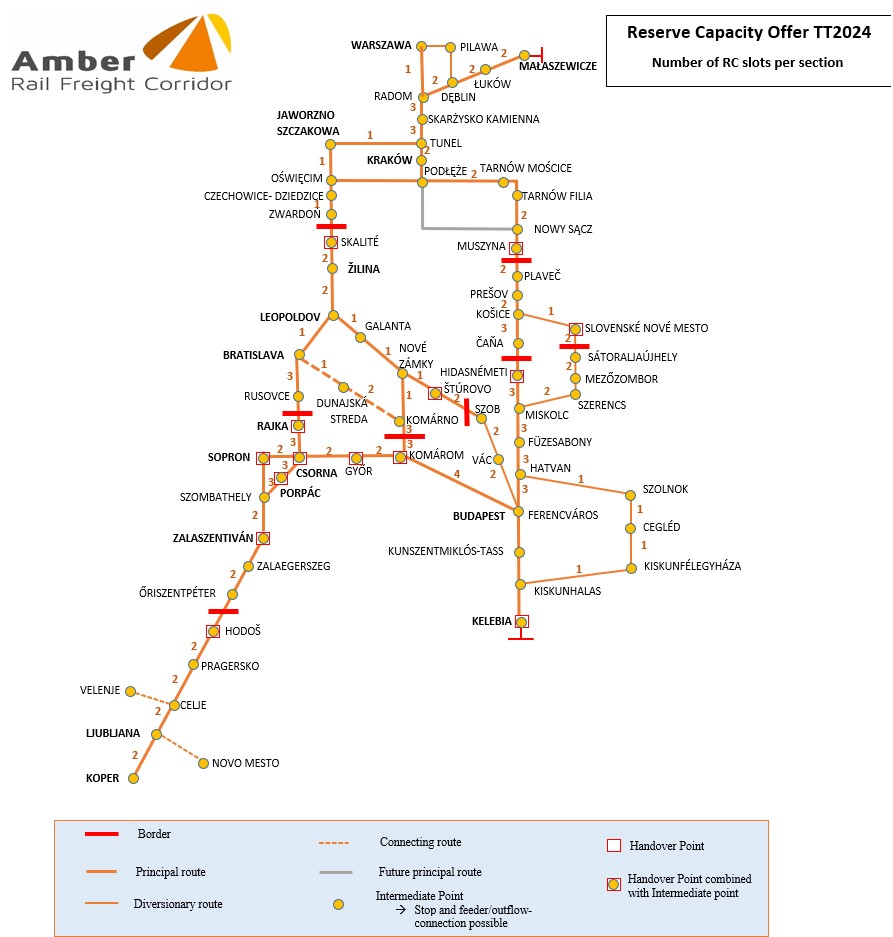 Publication of Reserved Capacity for Timetable 2024
The Reserve Capacity for TT2024 has been published in PCS
The Reserve Capacity for TT2024 is now published and accessible in PCS and ready for you to order from October 17, 2023. In addition to Pre-arranged Paths for the annual timetable, RFC Amber also offers Reserve Capacity according to Art. 14.5. EU Regulation 913/2010 . Reserve Capacity (RC) is our product for your recurrent business needs within the running timetable dedicated for your individual international short-term traffics.
Reserve Capacity RC on the Amber RFC is offered as a guaranteed contingent of "capacity slots" for international freight paths per day/ section (flexible RC approach) except for section Czechowice DZ. - Zwardoń where the PaPs were used. On all RFC sections the number of guaranteed timeslots is at least one per day.
To order reserve capacity, corridor sections without any time indication are available in PCS. Applicants can book RC via the C-OSS until 30 days before the first day of operation. On behalf of the Infrastructure Managers C-OSS will provide you with an internationally harmonized path offer until 10 days before the first running day at latest. To make ad-hoc requests less than 30 days before the running day, applicants have to contact the IMs/ABs directly.
Further details on Reserve Capacity Offer for Timetable 2024 can be found on our website and in PCS.