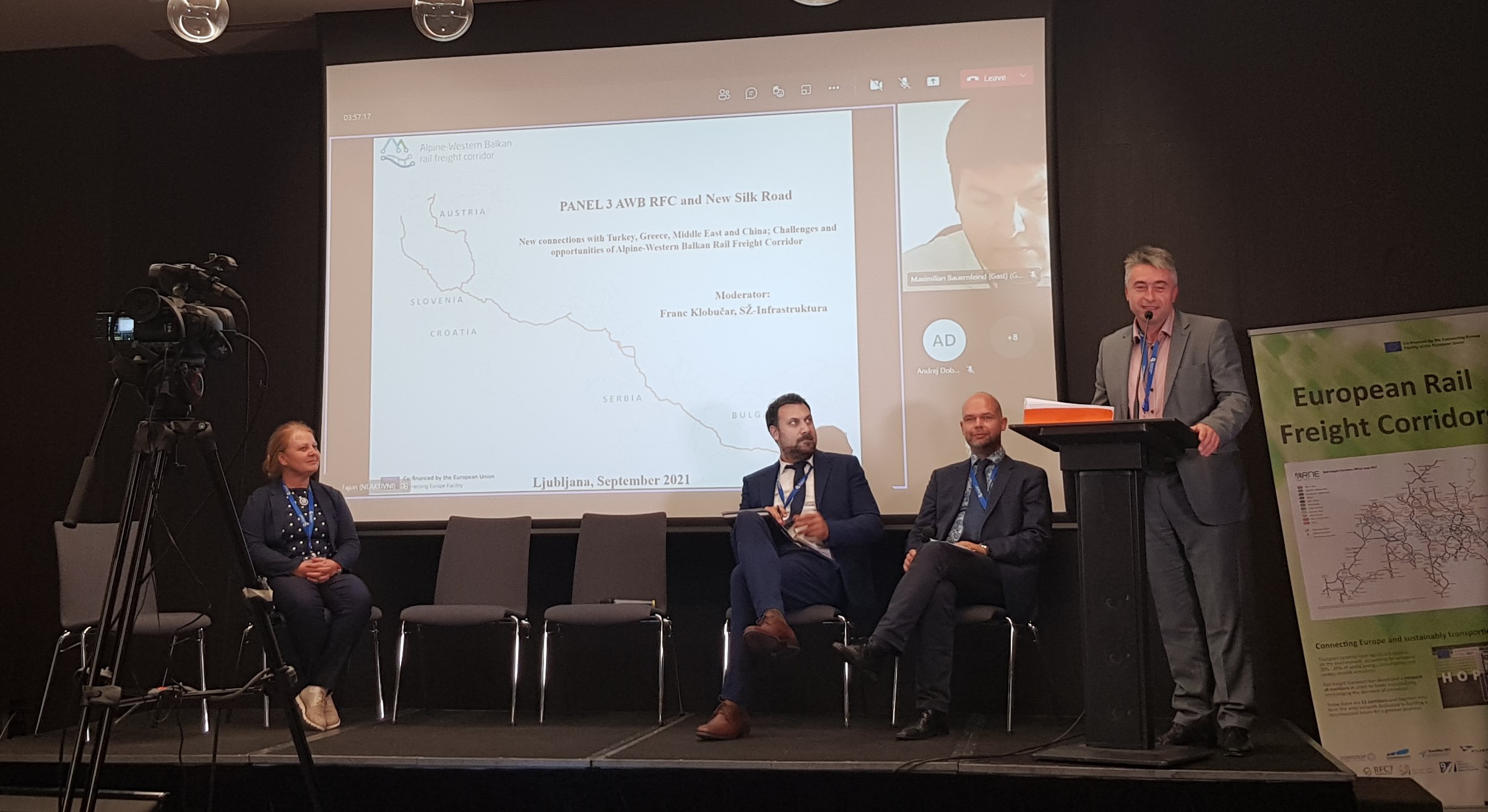 RFC AMBER congratulates RFC ALPINE - WESTERN BALKAN to its establishment
On 23 September 2021 the ALPINE-WESTERN BALKAN Rail Freight Corridor hold its Inauguration Event in the Slovenian capital Ljubljana. The Chair of the RFC AMBER Management Board and its Managing Director, Mrs. Andrea Mosóczi and Dr. Gerhard Troche, were present at the event and congratulated the Alpine – Western Balkan RFC to its establishment.
On the Inauguration Event the Managing Director of RFC AMBER, Dr. Troche, participated in a roundtable about RFCs and Euro-Asian rail freight, a topic relevant for both corridors and on which both already established a close exchange. He expressed on behalf of all RFC AMBER Members the best wishes to RFC ALPINE-WESTERN BALKAN and its Executive Director, Mr Milos Rovsnik and his team, highlighting that both corridors were set up on the initiative of the countries, railway infrastructure managers and allocation bodies concerned and emphasizing both corridor's important contribution to closing gaps in the European Network of Rail Freight Corridors. Dr. Troche also noted, that both corridors held their inauguration events in Slovenia, underlining the country's role as a crossroad of several Rail Freight Corridors in Europe.
The Inauguration Event provided the opportunity to exchange in a pleasant atmosphere with Members and many stakeholders of both corridors. RFC AMBER is looking forward to a continued close and fruitful collaboration with RFC ALPINE – WESTERN BALKAN and both Directors agreed to regular exchange and seek cooperation in various fields of common interest.
The day following the Inauguration Event the Connecting Europe Express visited Ljubljana, meaning that the train has now visited all countries of RFC AMBER. Even in Ljubljana RFC AMBER was present at the Welcome Event with brochures and information material, gaining the interest of many sector stakeholders as well as citizens.