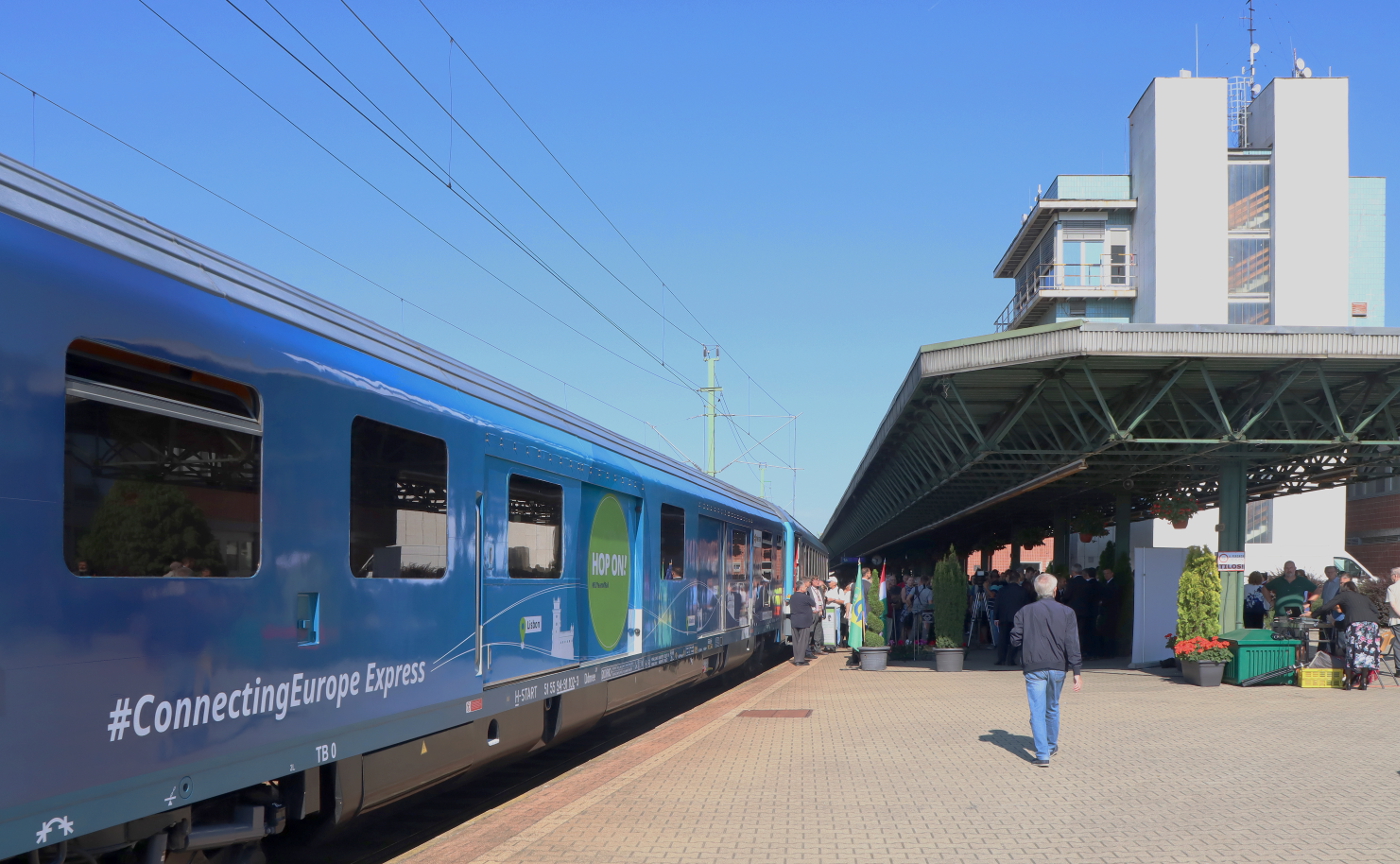 RFC AMBER well represented on Connecting Europe Express event in Sopron
On 11 September the Connecting Europe Express (CEE) paid its first visit to Hungary when it made a half-day stop in Sopron. RFC AMBER was well present at the welcome event organised by RFC AMBER Member GYSEV at the Sopron station, attracting many visitors.
On its tour through Europe the CEE-Train reached Sopron on the morning of 11 September 2021, coming from Bratislava, where has entered RFC AMBER tracks already the day before. On the welcome event RFC AMBER had a stand, staffed by our Secretariat, providing its latest Annual Report 2020 as well as information brochures about the corridor and answering questions. A well visible RFC AMBER roll-up displayed a map of the corridor and gave further information to many visitors. In the station and VIP-room the promotional video of RFC AMBER as well as the video about the RFC Network was shown. The exhibition coaches of the train highlighted many important TEN-T projects and provided information about CINEA and rail innovation under the Shift2Rail-initiative.
TEN-T Corridor Coordinator for the Rhine-Danube Core Network Corridor, Mrs Inés Ayala Sender from the European Commission – who was travelling on the train from Bratislava together with the Hungarian State Secretary for Transport, Mr Laszló Mosóczi – underlined in her welcome speech the high importance of rail for developing a sustainable European transport system for both freight and passengers. Mr Mosóczi emphasized the strong engagement of Hungary in four European Rail Freight Corridors, among them RFC AMBER, which Hungary initiated jointly with the three other countries along the corridor. Mr Kövesdi, CEO of GYSEV, stressed in his welcome address the strategic importance which the company attributes to the development of rail freight and the European RFCs and highlighted that GYSEV engages in three RFCs, bringing it into a lead position in Europe with more than 70% of its rail network being designated to one or several RFCs. Several EU-cofinanced infrastructure projects have been accomplished in the past years and further are in the pipeline to facilitate freight traffic on the GYSEV section of RFC AMBER.
The well-visited event gave good visibility of RFC AMBER to stakeholders and spread knowledge about the corridor to many citizens, strengthening the regional identification with the Amber corridor.
Further underlining the importance of rail freight, the Connecting-Europe-Express was on the GYSEV network hauled by a modern electric freight locomotive provided by GYSEV CARGO, wearing a special livery promoting with the slogan "No Planet B – 10 years with GYSEV CARGO for Nature" the indispensable role of rail for a sustainable transport system and for achieving the climate policy objectives of the European Green Deal.
The Connecting-Europe-Express will in the coming weeks still visit all countries of RFC AMBER.