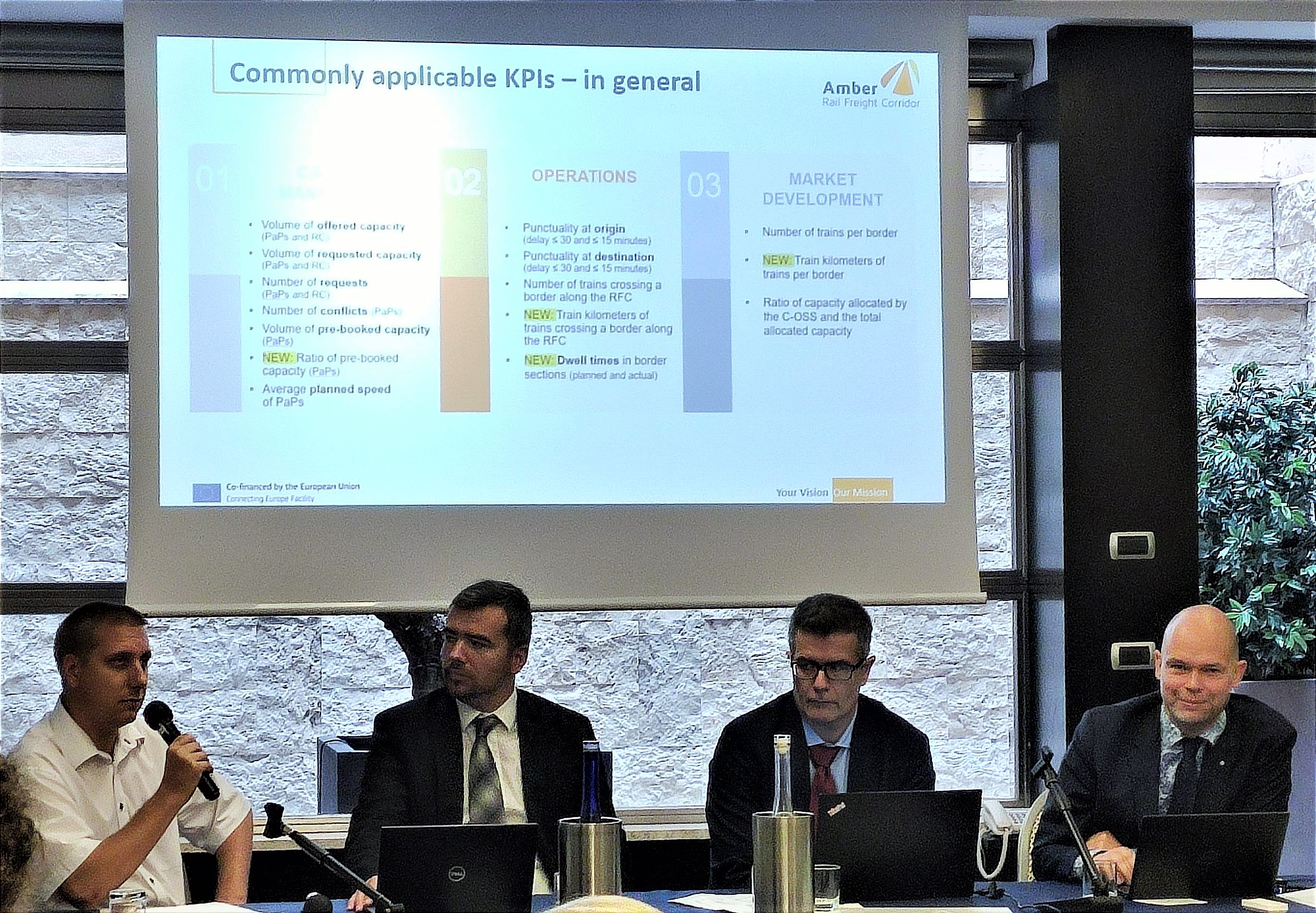 Well-attended Railway and Terminal Advisory Group meeting in Rome
On 5 October 2023 RFC AMBER and RFC Baltic-Adriatic held their second joint meeting with the Railway and Terminal Advisory Groups of both corridors in the Italian capital Rome. The meeting was well-attended, gathering more than 60 participants from all countries of the two corridors. The EU-Coordinator for the Baltic-Adriatic Core Network Corridor, Ms. Anne E. Jensen, held the keynote speech for the event.
Ms. Jensen highlighted in her speech the role of the Trans-European Networks for Transport (TEN-T) for strengthening the competitiveness of European rail freight and underlined the importance of cooperation. She also gave an outlook to the role of the planned future European Transport Corridors (ETCs).
After the welcome session and keynote speech both corridors gave an overview over recent developments and issues tackled. For RFC AMBER i.a. the new corridor objectives were presented. Mr. Szabolcs Tál, Leader of the Train Performance Monitoring Working Group, also gave an insight into the multitude of methodological challenges in measuring train punctuality. Representatives from the International Union of Railways (UIC) and RailNetEurope (RNE) gave a presentation about the Translate4Rail project pilots and demonstrated the solution to tackle language barriers at borders with the tool based on voice and language recognition.
After the lunch, two Representatives of the EU Commission, Mr. Siamak Jalali and (via video-link) Mr. Reinhard Haller, informed about the on-going revision of the TEN-Guidelines and about the integration of Rail Freight Corridors into the future European Transport Corridors (ETC).
A session about initiatives by terminals, ports and railway undertakings followed, focusing in particular on digitalization as a means to streamline operations and improve capacity and traffic management. Mr. András Nyíri, Spokesperson of the RFC AMBER Railway and Terminal Advisory Groups, highlighted the importance of system optimizsation in a dispersed railway system with many actors.
The event was concluded with an open discussion and participants were informed, that a third Joint Railway and Terminal Advisory Group meeting of the two corridors is envisaged to take place in the first half of 2024.